Future of Work Town Hall | School's Out for Teachers
One Detroit Examines the Teacher Shortage
and the State of Teaching in Michigan

When it comes to Michigan's strengths as a state, education isn't necessarily one of them. According to a U.S. News & World Report ranking, Michigan sits at 38th overall — 42nd in higher education, and 32nd in Pre-K-12 education — compared with the other 49 U.S. states. Teachers in Michigan were presented with more challenges and increased demands in the wake of the COVID-19 pandemic and school shootings, like the mass shooting at Oxford High School last November and at Uvalde Elementary School in Texas more recently.
So, what does the state of teaching in Michigan look like for the state's current educators, and how can Michigan make the profession more prosperous for future educators and students to come? Join One Detroit for a Future of Work virtual town hall August 10, 2022 at 12p ET on Facebook Live or YouTube.
Future of Work Town Hall host, and One Detroit's associate producer, Will Glover will talk with Ypsilanti Community Schools Superintendent Alena Zachery-Ross, Tracie Mauriello, the state education reporter for Chalkbeat Detroit and Bridge Michigan, and Citizens Research Council of Michigan Research Director Craig Thiel about whether Michigan faces a teacher shortage, teacher safety and advocacy in the wake of recent mass shootings, what career pipelines are in place for students entering the profession, and where progress is being made around teaching in Michigan.
RELATED: Michigan's Teacher Shortage: Can It Be Considered a Crisis Yet?
Plus, Glover talks with the panelists about school curriculums, STEM/STEAM (Science, Technology, Engineering, Arts, and Mathematics) programs, and whether Michigan's current education system hinders or helps teacher and student outcomes.
Watch Livestream:
Future of Work Town Hall Participants:
Future of Work Town Hall Host | Will Glover, Associate Producer, One Detroit
For Detroit Public TV's Future of Work initiative, One Detroit news and current events producer Will Glover leads conversations with business, economic, education, human resources, and policy experts to dive deep into Michigan's workplace, workforce and the work itself to understand how we could create, retain and attract the talent needed to innovate and make Michigan a competitive top ten state across multiple industries.
Glover studied film at Eastern Michigan University and received his Associate Degree in Digital Video Production & Documentary Film from Washtenaw Community College. Whether it's underwriting voice-overs or producing stories for One Detroit, you'll hear his voice throughout Detroit Public TV programming. Glover's focus is on his craft: finding the stories and voices that capture the truth.
Guest Panelist | Alena Zachery-Ross, Superintendent, Ypsilanti Community Schools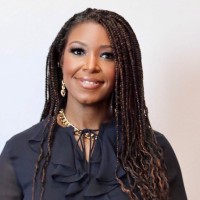 Alena Zachery-Ross is currently the Superintendent for Ypsilanti Community Schools. She is the former Superintendent of Okemos Public Schools and Muskegon Heights Public School Academy System, the nation's first self-managed charter school and local k-12 school district. The district is in its fifth year of operation.
Mrs. Ross previously served in Van Dyke Public Schools in Warren, Michigan for nine years where she served as an Assistant Superintendent of Curriculum and Instruction, elementary school principal and middle school principal. As a middle school principal, she began her turnaround career. While under her leadership, the building moved from a grade of "D" high alert to "B" in only 3 short years and made AYP 5 of her 6 years as principal.
She has also served as a teacher consultant, school psychologist, and teacher in the Detroit Public Schools. Mrs. Ross is a sought-after speaker and professional developer and is currently serving as the Pastor of Lane Memorial CME Church in Jackson, MI.
Guest Panelist | Tracie Mauriello, State Education Reporter, Chalkbeat Detroit/Bridge Michigan
Tracie Mauriello is the state education policy reporter for Chalkbeat Detroit and our news partner Bridge Michigan. She previously served as Washington and Harrisburg bureau chief for the Pittsburgh Post-Gazette and has covered education for newspapers in Connecticut and Ohio. She was a 2019-20 Knight-Wallace journalism fellow at the University of Michigan.
Mauriello is an award-winning journalist skilled in news analysis, narrative storytelling, public speaking, political analysis, education writing, and policy reporting, as well as a driving force behind a new initiative that brings journalism and music together to tell stories through original compositions.
Guest Panelist | Craig Thiel, Research Director, Citizens Research Council of Michigan
Craig Thiel is the Research Council's Research Director and primary researcher of education and school finance issues. Prior to becoming Research Director, Craig served as the Director of State Affairs and as a Senior Research Associate. During his graduate school studies, he worked for the Council as a Lent Upson-Loren Miller Fellow from 1993 to 1995. Before joining the Council in 2006, Craig worked for ten years as a fiscal analyst at both the Senate Fiscal Agency and the House Fiscal Agency. He previously worked for the Michigan Department of State, Office of Policy and Planning and the United States Environmental Protection Agency in Chicago.
Craig holds a B.A. in Economics and Political Science from Kalamazoo College and a Masters in Public Administration from Wayne State University. He holds positions on various professional, nonprofit, and local government boards/associations.
Stay Connected: 
Subscribe to One Detroit's YouTube Channel & Don't miss One Detroit Mondays and Thursdays at 7:30 p.m. on Detroit Public TV, WTVS-Channel 56.
Catch the daily conversations on our website, Facebook, Twitter @DPTVOneDetroit, and Instagram @One.Detroit
Watch One Detroit every Monday and Thursday at 7:30 p.m. ET on Detroit Public TV on Detroit Public TV, WTVS-Channel 56.
Support Provided By:
More Like This